Somerford Lady Of Colsidex
Miss Lara.....

'Lara' was the only bitch in a litter produced by using frozen semen from:
 
'Jack' - Am Ch Can Ch Colsidex Nani Reprint BROM  over Ellie -  Ch Greyflyte Queens Angeldust (Imp NZ). 

The mating produced 4 puppies two of which have their Australian ChampionshipTitles. Lara was born on 14/05/2010  and was one of those 4 puppies all from 'Jack' who's semen was imported by Carol Wright from the USA in the late 1980's. 

Lara has won a Best in Group at The Novocastrian Ladies Canine Association on 6/3/201, she is a valuable brood bitch having some of the top international producers in her blood lines. She has had a limited show career and she has only having had one litter to date. We plan to breed from her again in late 2013. Lara has a great temperament, personality and attitude. Lara lives happily with our other dogs on our property in NSW. Lara has a wonderful nature and she thinks she is the head of the pack over all the other dogs in her family, she is especially fond of her uncle Legend.

Information on Lara's grandsire  'Jack' :

'Jack' - Am Ch Can Ch Colsidex Nani Reprint BROM is still listed prominently in the BROM list (bench register of merit)  for the American Weimaraner Club , he has sired 72 champions in the USA during his lifetime. His sire Am Ch Can Ch Colsidex Standing Ovation  is ranked No 2 in the all time and also Sired 146 Champions during is career, two very famous American Weimaraners both featuring very prominently in the sires side of 'Lara's pedigree. Lara's Dam a New Zealand import also has some top winning dogs from Australia, New Zealand and America in her lines. 


In August 2013 Lara will be mated to 'Dakota" Am/Can Ch Valmars Unanimous Decision NSD BROM  This will be Lara's second litter. 

Dakota Am/Can Ch Valmars Unanimous Decision NSD BROM is listed as No 40 on the top 100 sire producers list with 33 USA Champions to his name. He had had an amazing Show career in the USA and was an amazing dog. . He is superbly line bred and ties in nicely with Lara's lines.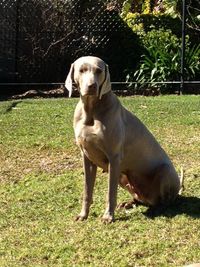 2010/5/14
Lara was the only female puppy from our Reprint semen. she is a BIG winner.
AM/CAN CH Seneca's Medicine Man BROM

AM/CAN CH Gronbach's Aladdin CD BROM

CH Eilatan's Karlrise Seneca CD BROM

AM/CAN CH Colsidex Dauntless Applause NSD BROM

Am Ch Dougs Dauntless Von Dor BROM

Shadowmar Winema Von Elken

Am CH Nani's Cobbie Cuddler BROM

AM/CAN CH Nani's Master Charge NSD NRD V BROM

CH Reiteralm's Rio Fonte Saudade BROM

CH Nani's Soul Sensation BROM

CH Nani's Cascade V.D. Reiteralm BROM

CH Ann's Magic Vd Reiteralm BROM

CH Nani's Soul Sensation BROM

NZ Ch Ashlaren Queen Ofhearts