Supreme Ch Somerlaren Ima Legend
Handler: S Barden.
STOP PRESS
'The Legend' - Aust Supreme Ch Somerlaren Ima Legend
 Officially No 1 Weimaraner is Australia 2010
(DOL Competition 2010)
As of December 31st 2010 our dog 'Legend' Aust Supreme Ch Somerlaren Ima Legend has finished the year 2010 as the number one winning Weimaraner in the Australia wide  DOL competiton. 
More breaking news.......In of this week 1/10/2010  Australian Grand Champion Registration was attained by  our dog 'Legend" - Grand Ch. Somerlaren Ima Legend (AI). 
On 7/9/2012 Legend became one of only a handful of Weimaraners in Australia to attain his SUPREME CHAMPION title. Well Done Shannon and well done Legend! After retiring for over a year Legend came back to do 1 show to get his Supreme title and just to make a statement took out Best in Group just to prove he hasn't lost his magic touch! 
For those who are interested our previous Grand Ch. was Somerford Charlies Angel a bitch who still appears prominently in many famous pedigrees in Australia and internationally. 
Shannon Barden our good friend and handler has done an amazing job campaigning Legend throughout 2010. Anybody that sees the two of them in the ring will notice that there is a very special bond that exits between this young man and Legend. 
When I consider that Legend had just over 190 points towards his Grand Championship title in February of this year (2010) and that by early October in the same year he now has over 1000 competition points then I'm sure that you would agree this has been an amazing whirlwind year of travel and shows for both Legend and Shannon.  
Legend  finished off with 1000 points on his third birthday in September 2010 and by that time had accumulated 1055 points.  This year has seen him win 12 Group 1's, ......8 Group 2's....... 3 BIS's and...... 3 RUIS's. 
What an amazing year!!!! 
Now its time to sit back and relax a little, give Shannon some space to finish his Greyhound' Grand title and to concentrate on the HSC  in November and then its time for the BIG party BBQ.  Shannon will also be taking his greyhound to exhibit at the 2010 Eukanuba Classic in California in late November. 
Legend was so used to 4 days with me and then 3 days with Shannon that he got tetchy on Thursday night's because he knew the weekend was coming up and he wanted to be off on the next adventure. Maybe we will get to see a little more of him now that the pressure if off. 
Legend is a consumate showman and with all his faults he still takes my breath away when he moves off in the ring, he owns his space in every contest. This dog loves his handler and gives him his all at every show. I have watched both of them in the ring many times over the year and it never ceases to awe me as the two work so well together. 
Well done to a great team...Legend and Shannon. 
In making this comment I also want to acknowledge Amanda Lavercombe who handled Legend for his first two years in the ring and also to our good friend Maurie LeCussan who patiently trained both Amanda, Danny and Legend every week for over a year and a half. 
Thanks to all involved. Its been a magical ride. 
I also want to say a special thanks to my partner of 10 years Danny Boskovski. 
Our 10th Anniversary is at the end of October and for someone who was never "a dog person" he has given this venture his best shot. Danny I thank you for your tenacity, support, your wonderful sense of humour, your compassion and most importantly your support of what was principally my hobby. It seems now that you know more people in the dog show world than I do, maybe that's because you go to more shows than I do. I rather fancy some people might be smiling now and nodding their heads when they read this. 
Our 'Legend' was born to to be a grand showman and all who see him in the show ring and at play are taken aback by his ring presence, balance and personality.......what a wonderful ambassador for the breed!  
We would like to thank all of the Judges that have appreciated his lovely breed type. 
As of 5/10/2010  Aust Grand Ch Somerlaren Ima Legend is the No 1 Weimaraner in Australia on the Dogzonline Competition for the Weimaraner breed and he is currently No 1 in Australia in the All Breeds Leaderboard for the Dogzonline National Competition. 
Well deserved Shannon and Legend. 
Owned and Loved by Danny Boskovski, Laine Knox and Jim Delaney  
Legend was born in September 2007 .....and he loves the surf. 
Take a look at his Pedigree L you will see that he has some very fine dogs in his lineage. 
Check out his advertisement here. 
Ch Somerlaren Ima Legend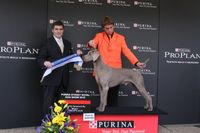 Photo Dog Challenge Sydney royal 2010.
Aust Ch Divani Joyous Ocassion

Am Ch Valmar's Jazzman CD NSD NRD V BROM

Am Ch Valmar's Serendipity BROM

Aust Ch Grauhund Moody Blues

Aust Ch Grauhund Itn Abit